Bedroom Basement Renovation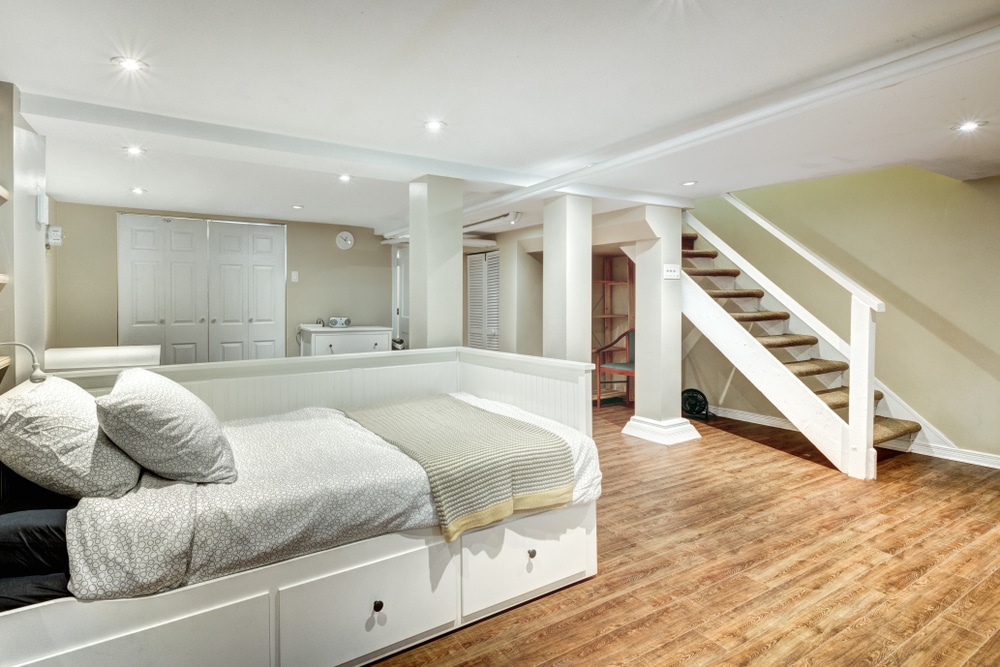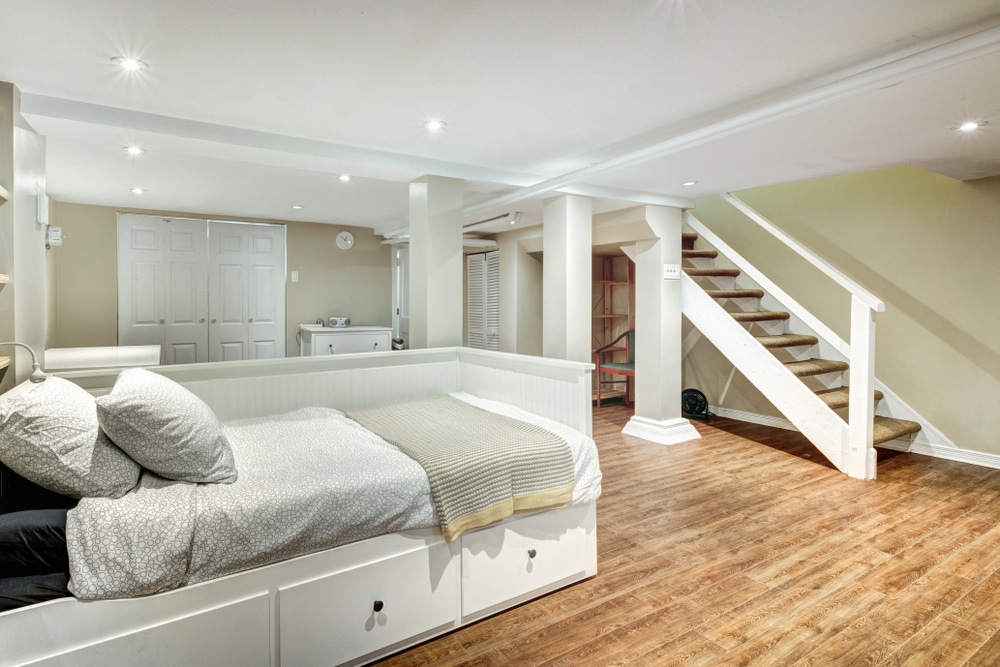 Are you looking for more room to accommodate a new bedroom?  Do you love to host but don't have enough space for all of your guests? Are your kids clamoring for their own bedrooms? Perhaps a basement bedroom might be the ideal answer for you!
Basement finishing may be a difficult project to do on your own, which is why our company is happy to step in and help! Our team of experts is available to discuss the possibilities with you, including any necessary installations such as lighting, heating, closet construction, further bathroom improvements, and other features that may be required. Our technicians will work with you to design your dream basement, which will include all of the necessary wiring, plumbing, safety features, and other amenities that you need.
Leave It To Us!
Our team of specialists is capable of finishing your project on time and within the budget that you have specified.
We can assist you in creating a functional, living area that incorporates all of your must-have aspects like storage, wiring for entertainment, plumbing for a bathroom, and other features. We use only the highest quality tools and materials in our work.
Not only would having a basement bedroom be beneficial to you now, but it will also be a wise investment in the long run. Many buyers are seeking houses that have completed basement rooms, and being able to provide an additional space that is completely functional is a terrific way to attract more potential buyers to your property.
It will be simpler to welcome visitors if you have an extra basement bedroom, and it has a lot of promise for expanding families that want more space.
To learn more about how we can help you with basement renovations, please contact us right now! Not only can we help you with additional bedrooms, but we can also completely renovate your basement from top to bottom. You'll save both time and money! Call us now to schedule your free estimate!
Although the basement is typically the final room in a house to be remodeled, it is also one of the renovations that may add a lot of square footage to your home as well as increase its value. Let's renovate, an unfinished basement is beneath you!
Basements, often considered to be little more than frigid storage, may now provide warm, pleasant surroundings that can be used to create more square feet of lovely living space in your house.
Basement renovations are sometimes ignored, yet they are the perfect finishing touch to any property. There is no longer any need to be afraid of your wet, dark basement. We have so many satisfied customers who can speak to how significantly a new basement has improved their house and lifestyle by allowing them to take advantage of space that was previously underused.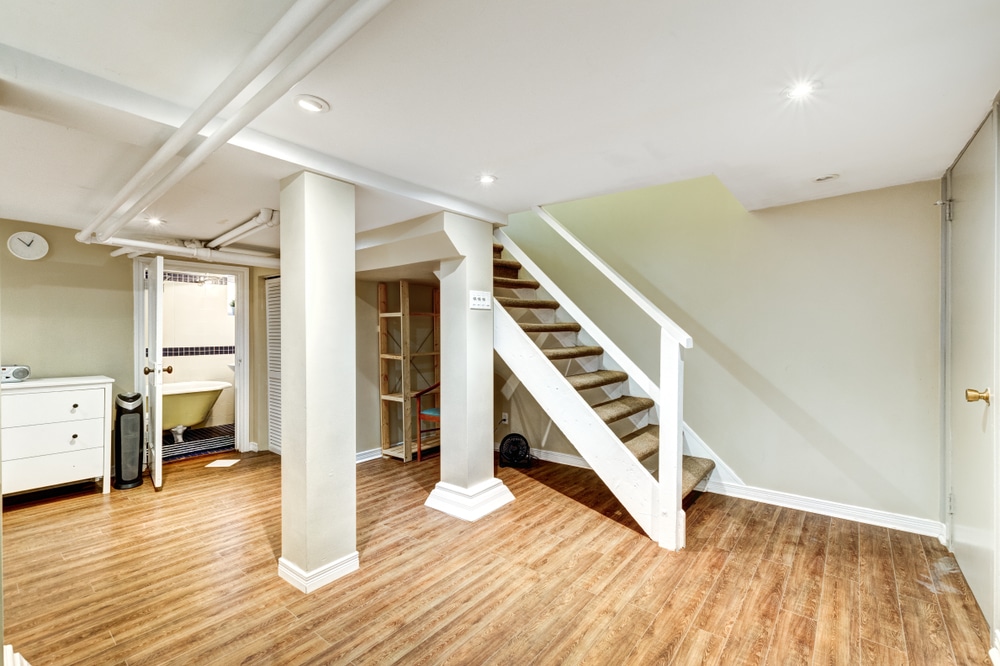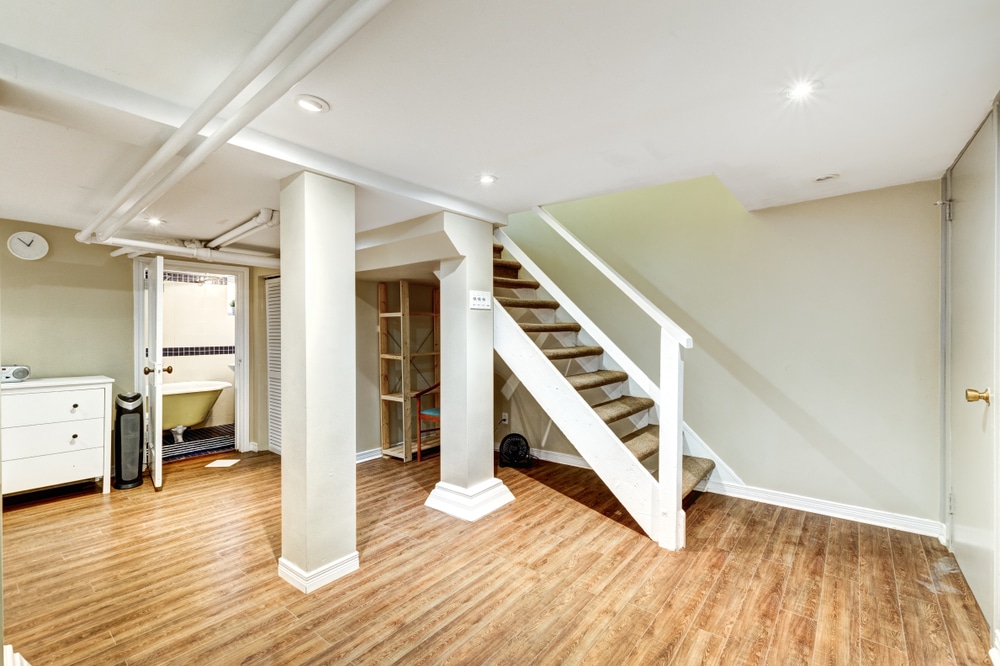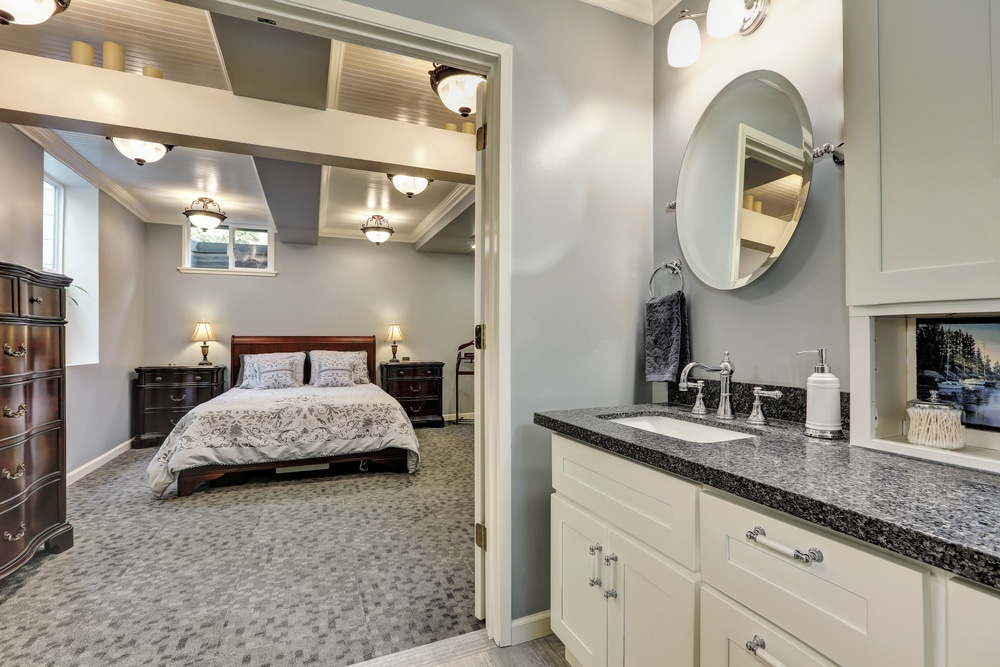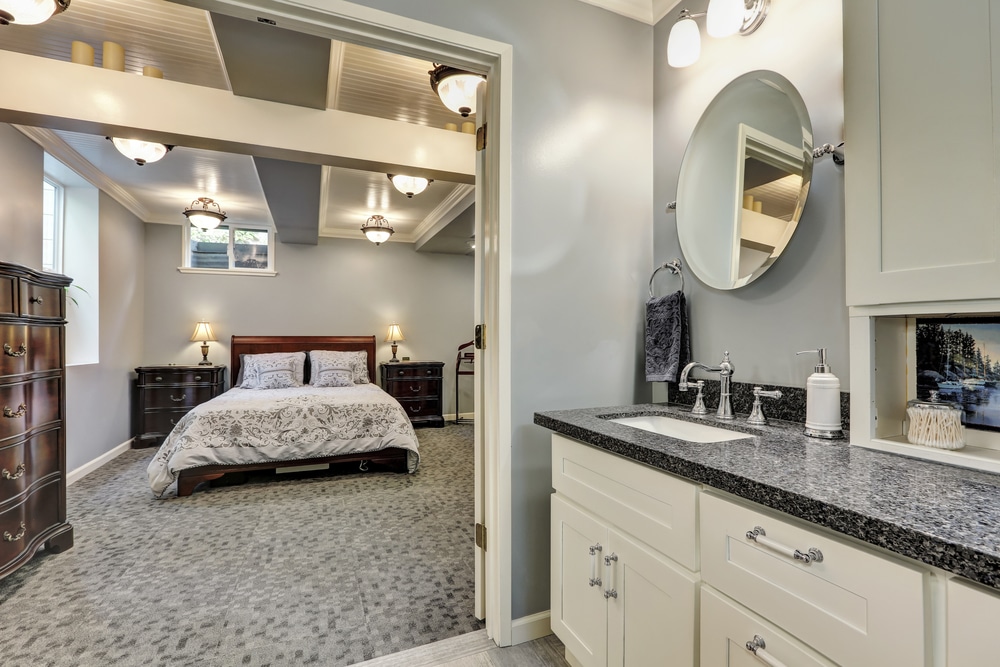 Need an extra bedroom due to the addition of a home-based business or have new family members needing space? The solution may lie in your basement, rather than attempting to squeeze extra space out of your upstairs living area or relocating to a new home to make room for more people!
It is possible to get a significant return on your investment by adding a basement bedroom since it generates more space that may be used for a variety of purposes. Our company is the contractor you can rely on for all of your basement renovation projects because we provide open and honest communication, excellent craftsmanship, and professional results.
How much does it cost to renovate a basement?
Investing in a basement makeover might significantly boost the total value of your property if you are planning to sell it in the future. The existing structure may be used without raising the total cost per square foot of the project by much. Several factors influence the cost of remodeling a basement, including the size and condition of the space, materials and labor costs, upgrades, the complexity of new designs, and other considerations. The average cost per square foot is between $55 and $75. When it comes to remodeling a basement that is 800 square feet in size, the cost will range between $40,000 and $60,000 including linear foot plumbing.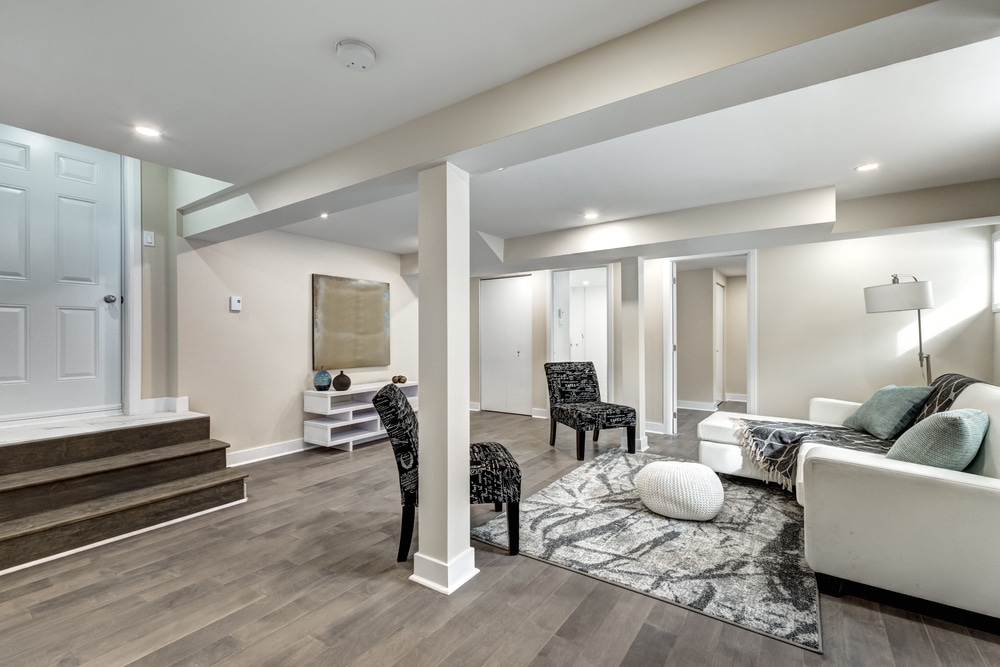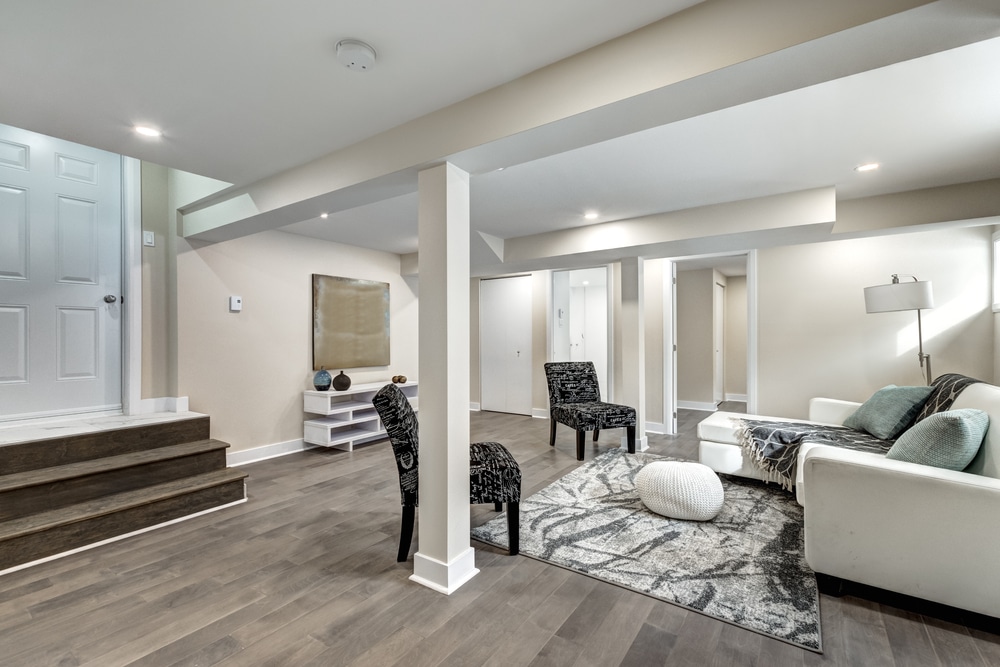 Bedroom Basement Renovation ideas
The basement is normally one of the most overlooked areas in a home. Every year, a large number of homeowners struggle with finding creative ways to renovate their basements and bring new life to this often-overlooked room.
Investing in a basement renovation provides homeowners with the opportunity to discover a whole new world of limitless possibilities. Basement bedroom restoration is one of the most popular basement renovation concepts. This remodeling increases the market value of the property while also creating more space, which makes the house appear larger and more ordered.
It is perfect for most types of homes to convert the full basement into either a kid's bedroom or a guest bedroom in its entirety. There is something magical about having a big and well-designed bedroom basement that leads the majority of people to choose this choice over other options. Here are some bedroom basement ideas:
Determine your chosen design layout - The bedroom basement should be laid out differently than the main circulation area. The bed should be placed in the room's hottest location. The outer wall may be used as a lounge or leisure area.
Drainage and plumbing - Installing an ensuite bathroom is a smart option, especially if the bedroom is being used as a guest room. It is important for the plumbing contractors to think about optimal drainage procedures that will avoid mold growth or cause the walls to be moist.
Ventilation - In order to be habitable, the basement must have proper ventilation. The proper HVAC systems should be installed, and an additional window with a view of the outdoor area can be a useful addition.
Entertainment corner - Want a TV in the basement bedroom? Sliding glass doors can split a bedroom's basement corner. Larger basements can offer an escape corner. Guests can relax and play games in the entertainment nook before going to bed.
Gray and white monotones - Bedroom basements are increasingly using gray and white tones. The gray may range from mild to dark undertones, while the white provides a crisp and clean finish.
Warm colors - Warm hues brighten and cozy up a space. This may be achieved by painting the walls in gold, yellow, or mustard hues, or by using relaxing warm wallpapers.
Luxurious beddings - The choice of beddings raises the overall appearance of the bedroom from plain to magnificent and sophisticated. The bedding should be appealing and luxurious from the moment the basement door is opened.
Lighting - The basement is often a gloomy and dreary environment due to the lack of natural light. Various precautions may be taken to ensure that light enters the area entirely, making it bright and appealing.
Finishing - The final finishing of the bedroom should convey the style and feel that you are striving for, with a rich and beautiful touch placed in every area. This gives the space an edge that is tremendously beautiful and sophisticated.
Insulation - Insulation is vital in the basement. A well-insulated basement will keep the space warm enough to be used. Using the correct insulation while renovating avoids the cold from causing a chilly and uncomfortable bedroom.
Functionality - Installing fitted closets and shelving will boost utility and utilization. If the room is used by kids, the additional space might be used to store excess laundry or toys.
Antique fixtures - Depending on the appearance, vintage wardrobe handles, lighting chandeliers or bathroom fittings provide a particular edge that draws people in.
Rustic style - Rustic design is common in basement bedrooms. A massive rustic design bed will add to the wood cabin feel. Using varnished wood on the walls or wardrobes would offer a rustic feel while saving money. It is possible to leave certain walls bare or varnished and exposed to create a rustic atmosphere.
Hardwood floors - This adds warmth and keeps the mood consistent with the rest of the house. Hardwood flooring also offers a warm appearance that fits any theme of floor space.
Elaborate stairway - A unique stairs leading to the bedroom can improve the room's quality. This might be a spiral staircase leading to the basement or a glass rail staircase with accent lighting at the bottom. This gives the basement a unique and explorable vibe.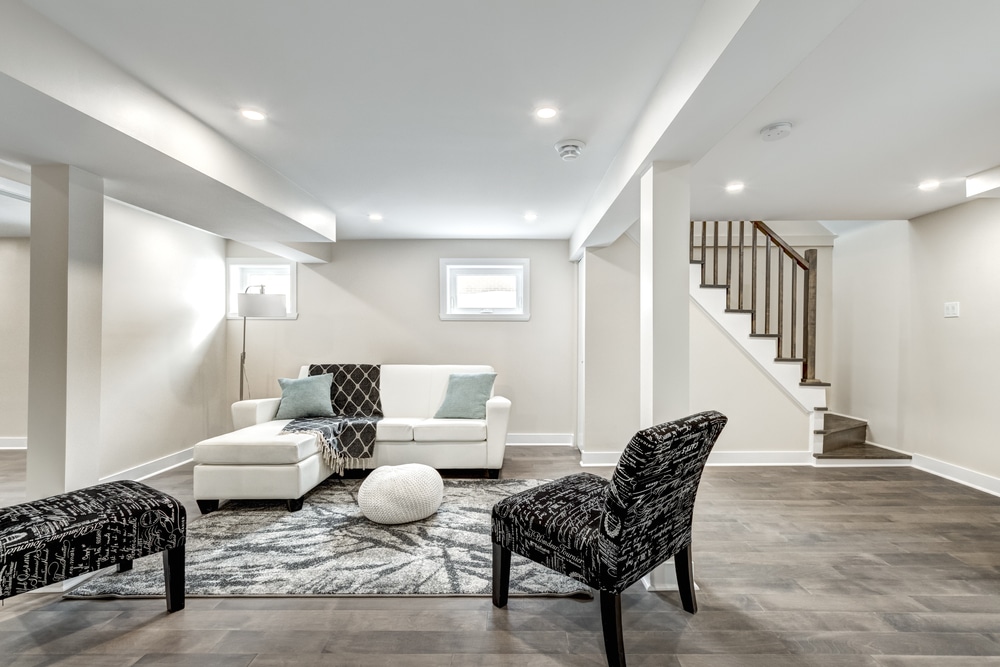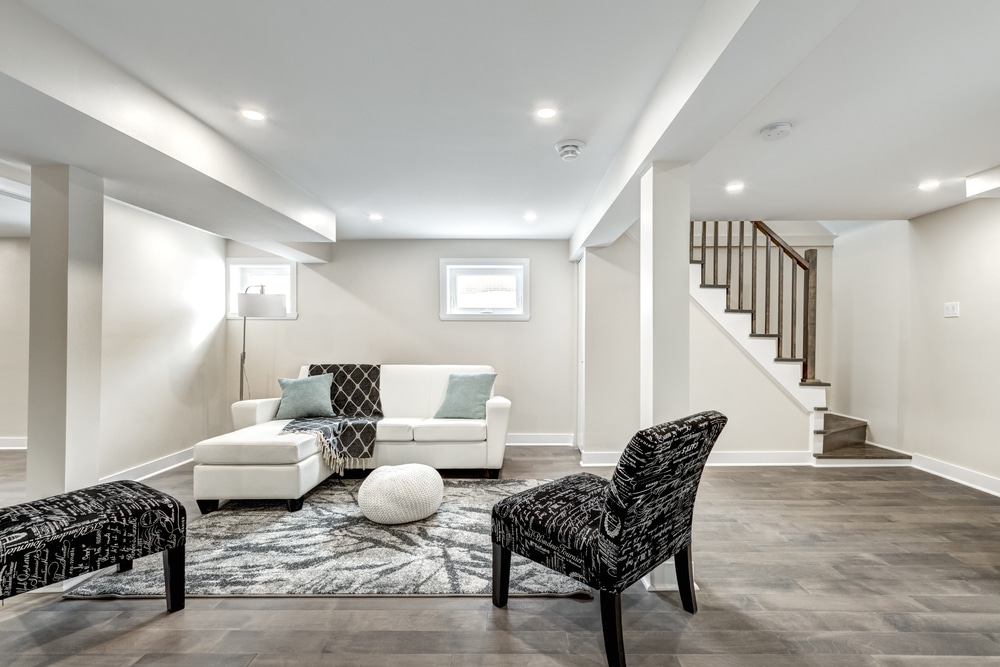 Basement Renovation Cost Factors
In most cases, the total cost of adding a custom-made bathroom to your basement is between $15,000 and $40,000, based on a variety of factors including:
The bathroom's dimensions
The materials used for the flooring
Custom cabinets and other features
PAINTING
The cost of painting a basement is determined by the size of the space as well as the following two factors:
The amount of paint that was used
Number of labor hours
The total cost of painting a basement is normally between $1,000 and $1,600.
FLOORING
It is an essential part of a basement renovation project since it influences the final appearance of your finished basement. The cost of flooring is determined by the type of material used. Here are a few examples of popular choices:
Hardwood floor installation is completed after ensuring that there are no water infiltration or humidity concerns.
It is important to have a floating floor to ensure that it does not buckle quickly.
Installing carpets to improve comfort and reduce noise.
Carpet installation can cost up to $2-$8 per square foot carpet.
CEILING
When it comes to the basement ceiling, there are three typical options:
A gypsum ceiling costs around $2 to $3 per square foot.
The cost of the architectural ceiling is estimated to be roughly $7/sq. ft.
A suspended ceiling is normally priced at $5 per square foot.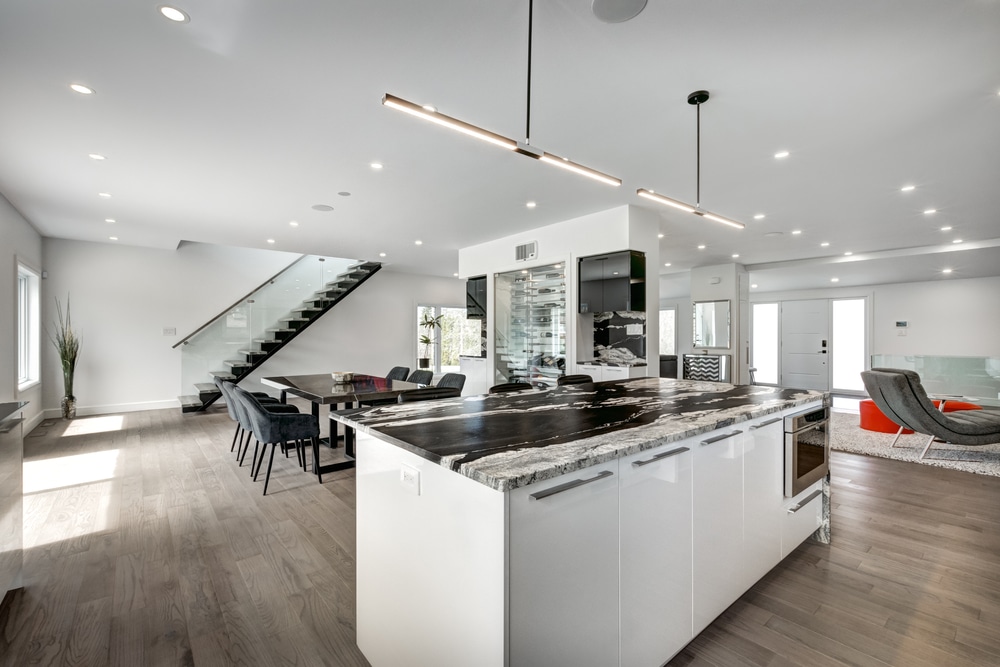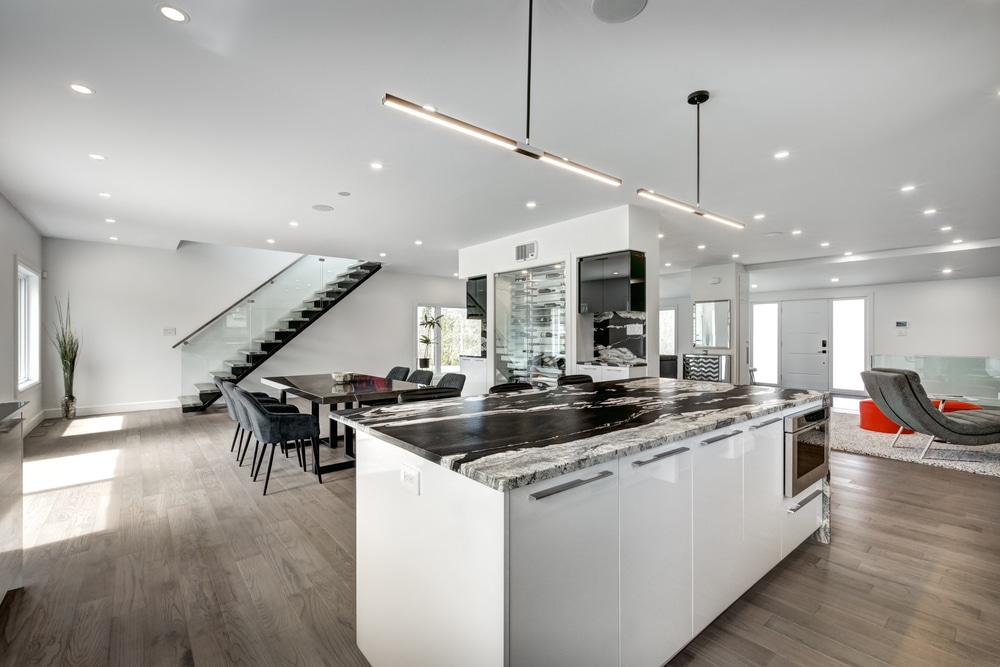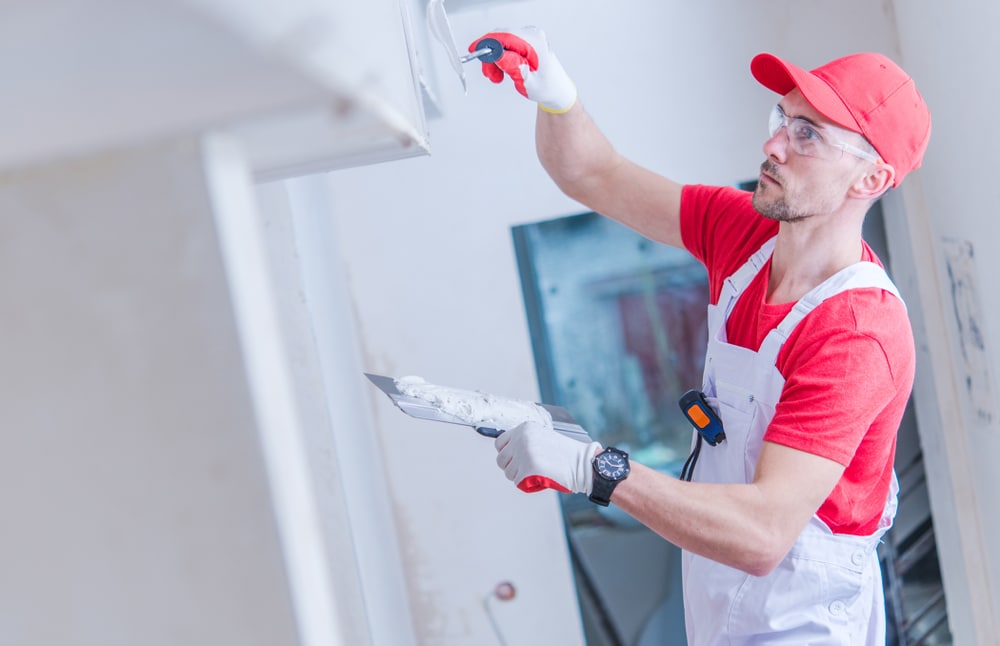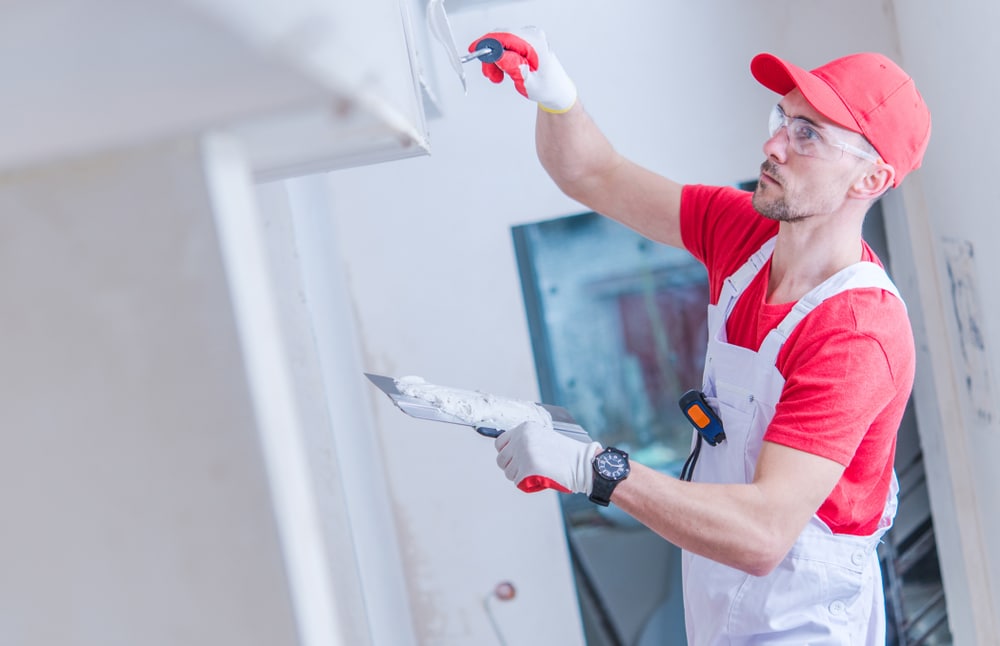 Comparing DIY basement renovation costs vs. hiring professionals
While some individuals like doing their own home improvement projects, others only do it because it saves them money. Some professional contractors are exorbitantly costly, and many individuals just cannot afford to employ one of them.
However, major home renovation projects, such as completing your basement, need a significant time investment on the part of homeowners.
Before you begin a renovation project, create a timetable that reflects the amount of time you want to devote to it over the course of the day, the night, weekends, and vacations. If you have the necessary time and knowledge, go ahead and do it. Saving thousands of dollars while also enhancing the value of your property is a winning combination.
If you believe that you can serve as a general contractor and at the very least save money, go ahead. That is an excellent concept.
You may, on the other hand, wind up making more mistakes that will cost you more money to fix. That means that you will have to use more money than you had saved by acting as a general contractor. As a result, it is preferable to contact one of our basement renovation contractors in order to save both time and stress.
Frequently Asked Questions About Basement Bedroom Renovations
What is the cheapest way to finish a basement ceiling?
The selection of the appropriate ceiling tile may be a difficult task when it comes to completing your basement and locating the appropriate components to make your basement seem complete. This might be especially tough if you are working under a strict budget for your ceiling remodel. It's possible that you'll need to use your drill to complete the task.
Many times, homeowners who are looking to complete their basement, or even partially finish their basement, do not consider the need of budgeting a significant amount of money for ceilings and walls. That, on the other hand, does not have to be an issue.
Finishing the ceiling of your basement may appear to be a daunting task, but it is possible to complete the job without spending a fortune. There is no need to invest a fortune in order to benefit from this revolutionary ceiling solution, on the contrary. Here are some of the most cost-effective ceiling solutions available.
HD Wallpaper - If you have a drywalled ceiling in your basement and want to make it more appealing, wallpaper can help. When put, HD or 3D wallpaper looks nothing like wallpaper. Instead of buying new panels or tiles, you may use tile-like wallpaper. These wallpaper selections are usually paintable, so you may change the color of your faux tiles as you choose.
Sheet paneling - If you have an unfinished ceiling and want to enhance it, try sheet paneling. This is a great alternative if you don't care about the aesthetics of your basement. This is an option for those who don't mind ceiling seams. These panels are normally 4' x 8' and may be purchased for as little as $15 per panel.
Tin tiles - Tin tiles are wonderful for a unique aesthetic in a basement. This is also a terrific method to give your basement an antique atmosphere. One of the nice things about tin tiles is that they appear like real, substantial, detailed metalwork until you touch them.
Styrofoam or particleboard - Styrofoam panels are one of the cheapest solutions for ceilings, and you've probably seen them in many basements. This is a cheap alternative that often looks like more costly tile selections. It provides adequate covering and insulation while saving you money.
Wood planks - It's not the cheapest choice, but you'd be amazed how far a few thin wood boards can go when covering a ceiling. You may also paint these wood planks whatever color you like, including white, to give your basement a new look.
Drop ceilings - A drop ceiling, or suspended ceiling, totally conceals ducting and pipes. It is easy to install, absorbs sound, and is less expensive than other options.
Drywall - An easy decision, but one that many homeowners underestimate. If your ceiling has exposed pipes and beams, hire a drywaller or repair it yourself. It's easy, cheap, and provides terrific insulation and a fresh start for your newly finished basement. Drywall is about $1-2 per square foot, so it may not be as costly as you think.
Can a basement be made into a bedroom?
Yes. You are permitted to use your basement as a bedroom, but you must verify that it conforms with all applicable building regulations. Basement living spaces are required to have emergency escape or egress windows and rescue apertures, which are referred to as egress code requirements.
How do you turn an unfinished basement into a bedroom?
Finishing a basement is one of the most effective methods to increase the value of a property. Building a room anywhere in the house is expensive. Creating a bedroom in the basement is not an exception to this rule. However, if it meets your requirements, it may prove to be a worthwhile investment. According to expert basement specialists, homeowners construct basement rooms for use as bedrooms, media rooms, and baths, among other things.
Some people choose to complete the entire basement and rent it out to generate additional income. If all of that is unnecessary, another alternative is to construct a single room for privacy.
Before renovating your basement, be sure to check the building codes in your area. It is possible that you will need to create a scale drawing of the room and submit it for approval to the local building inspection agency. Carry out some study and compile a list of basement materials to use as a guide to determining what you have on hand and what you will need to acquire.
Unfinished basements often contain concrete flooring, concrete basement walls, exposed ceilings, and sometimes some drywall. Putting down square foam floor mats is the first thing you should do. These are reasonably priced, adaptable, and fit together like a jigsaw of different shapes and sizes.
In addition, you may paint the concrete floor and walls, and hang fabric swathes from the ceiling to create the illusion of a billowing canopy. If it isn't your thing, consider hanging some pinpoint lights from the ceiling to create a pleasant ambiance instead of a chandelier. Paint the ceiling rafters, place area rugs on the floor, and hang drapes are all options you might consider.
Is there anything you can do with the extra space if you don't need to finish the basement or create another room? By installing shelves and cabinets, you may turn them into a storage space. You may use it to store tools, off-season apparel, Christmas decorations, and athletic equipment, just to name a few things. Unfinished basements may be transformed into excellent art studios, home gyms, and workshop spaces with a few modifications.
How do you modernize an old basement?
A basic color scheme and painting the walls, trim, and doors to give a space an update can often be all that is needed to make it look new. Painting old-school wood paneling with a fresh coat of brilliant white paint can transform your area from dark and dingy to open and airy in only a few hours on the weekends.
Lighting hues may make a space appear more substantial, but this does not mean that the area must be boring and drab! Consider using neutral colors such as gray or white, and highlighting your design with vibrant artwork that stands out. If you want to add visual interest to your interior design, consider using furniture items that are bright and bold in colors, such as a turquoise sofa or hot pink bar stools and matching carpeting.
Remember that you can paint over anything, including concrete, so you can give your drab walls or bare floors a fresh coat of paint in a variety of vibrant hues. Bring your imagination to bear!


About Guelph
Guelph ( (listen) GWELF; 2021 Canadian Census population 143,740) is a city in Southwestern Ontario, Canada. Known as "The Royal City", Guelph is roughly 28 km (17 mi) east of Kitchener and 100 km (62 mi) west of Downtown Toronto, at the intersection of Highway 6, Highway 7 and Wellington County Road 124. It is the seat of Wellington County, but is politically independent of it. The city is built on the traditional territory of the Mississaugas of the Credit First Nation.Guelph began as a settlement in the 1820s, established by Scotsman John Galt, who was in Upper Canada as the first Superintendent of the Canada Company. He based the headquarters, and his home, in the community.
Neighborhoods in Guelph, Ontario
Things to do in Guelph, Guelph